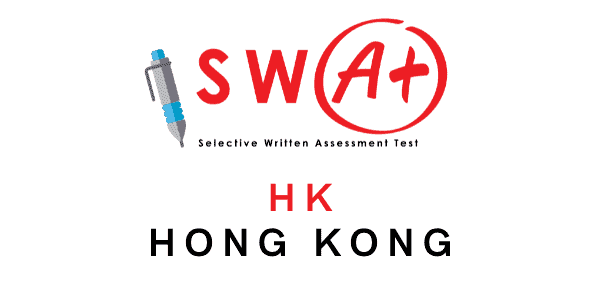 Selective Written Assessment Test (SWAT) Hong Kong
Registration for 2021 HK SWAT is now open! NEW SWAT Date: Sunday 26th September 2021.
The Selective Written Assessment Test, or SWAT, is a mock examination experience that occurs annually and is aimed at helping Primary school students in Years 3, 4 and 5 prepare for the Opportunity Classes (OC) Placement Test, Selective High School Placement Test and Scholarship exams in Australia.
For Year 3 and 4, the SWAT exam will include one full-length OC paper, testing in Reading, Mathematical Reasoning and Thinking Skills (the new OC Placement Test format as announced by the Department of Education on 25 March 2021).
For Year 5 students, the SWAT exam tests Reading, Mathematical Reasoning, Thinking Skills and Writing.
WHY SWAT?  |  WHAT ARE THE BENEFITS OF MY CHILD SITTING THE SWAT EXAM?
Through North Shore Coaching College's over 30 years of educational experience, we have found that practising sitting an examination in a test environment reduces test anxiety and improves performance when it comes to the 'real deal' (OC/Selective/Scholarship exams).
At just HKD 450 per student, SWAT is the most affordable 'big exam experience' for Primary school students currently available. We also pride ourselves on creating expertly-developed academic content, with the SWAT papers following the current format of the OC and Selective High School Placement Tests.
Also included in the cost of your SWAT ticket is entry into gaining a scholarship to study at North Shore Coaching College and North Shore Education Centre (Hong Kong) ('Young Achiever' and 'High Achiever' courses). There are up to 60 scholarships on offer in NSW and HK.
Register Now
There is a venue in Hong Kong where you can sit SWAT 2021.  To register for HK SWAT 2021, please click the below button to fill in the registration form. The completed form will be emailed to our [email protected] We will process your registration and issue the admission ticket with details to you.
If you want to gain better understanding of SWAT and how it is run in NSW, please visit our official swatexam.com.au website.
Selective Written Assessment Test (SWAT) 是一種模擬考試體驗, 並提供入學試全科考卷,每年舉行一次,旨在幫助 3、4 和 5 年級的小學生準備英才班(OC)考試, 精英中學 (Selective School)考試和私立學校獎學金(Scholarship) 考試。
3 年級和 4 年級學生,SWAT 考試將包括完整的 OC 全科考卷,測試閱讀、數學推理和思維技能(采用紐省教育部於 2021 年 3 月 25 日宣布的新 OC 分班考試格式)。
5 年級學生,SWAT 考試測試閱讀、數學推理、思維技能和寫作。
什麼是SWAT? |我的孩子參加SWAT考試有什麼好處?
通過北岸教練學院 30 多年的教育經驗,我們發現在考試環境進行考試練習, 可以減少考試焦慮及有效地累積考試經驗並提高"實際"考試的臨場表現, 得以讓孩子盡其所能發揮潛能。
每位SWAT考生收費僅為450港元, 是目前最實惠的小學生"大型考試體驗"。費用已包括獲得在北岸學院及香港北岸教育中心學習獎學金機會('Young Achiever' 和'High Achiever'課程), 共提供多達60個獎學金給成績優異考生。
Details
Price
Qty
SWAT 2021 - Year 3 & 4 | Sunday 26 Sep; 9:45am-12pm (HK Time)show details +
$450.00 (AUD)
Allocation Exhausted
SWAT 2021 - Year 5 | Sunday 26 Sep; 1:00pm-4:30pm (HK Time)show details +
$450.00 (AUD)
Allocation Exhausted
SWAT 2021 - Year 3 & 4 | Sunday 26 Sep; 9:45am-12pm (HK Time)
September 26, 2021
9:45 am - 12:00 pm
SWAT 2021 - Year 5 | Sunday 26 Sep; 1:00pm-4:30pm (HK Time)
September 26, 2021
1:00 pm - 4:30 pm
Venue Phone: (852) 9694 3337
Address:
Office 801, 8/F Kwai Hung Holdings Centre, 89 King's Road, Causeway Bay, Hong Kong Island, Hong Kong