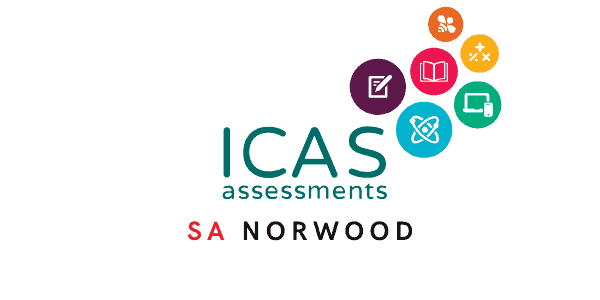 ICAS Assessments (Norwood, SA)
Registration for 2021 ICAS Assessments™ are now open!
North Shore Coaching College is proud to offer the world-renowned ICAS Assessments™ to all students, provided their schools are not currently offering the ICAS Assessments™ that they intend on entering.
ICAS Assessments™ will be available in Digital Technologies, Writing, English, Science, Spelling Bee and Mathematics.
ICAS Assessments™ are an annual world class competition designed to recognise academic excellence for high potential students. These online assessments are designed to recognise and reward academic excellence. Students are asked to demonstrate a deeper, integrated, and thorough level of learning. To ensure an engaging and beneficial experience for all students, new ICAS Assessments™ are developed annually for each subject in every year level. All students will receive certificates of achievement. Highest performing students have an opportunity to win medals (subject to determination by Janison Solutions Pty Ltd 'Janison').
Registration to sit ICAS Assessments™ at North Shore Coaching College must be completed online, and is on a first-come-first-serve basis. Once a session has reached maximum capacity (i.e. Allocation Exhausted), it is at the College's discretion whether additional sessions will be opened.
North Shore Coaching College offers past papers; up to and including the Year 2018, which may be purchased to assist your child in preparing for the ICAS Assessments. These past papers provide a valuable opportunity to gain assessment experience whilst acquainting candidates with the style and content of possible question types. Please order these past papers online at the North Shore Shop.
Registration is open to all students in South Australia who will not be sitting the relevant ICAS Assessment at their school. The ICAS Assessments will be held at the Norwood Principal Campus only. Registrations close approximately 5 weeks before the assessment date (at 11:59pm on Sunday 1 August 2021 for Digital Technologies and Writing, Sunday 8 August 2021 for English, Sunday 15 August 2021 for Science and Spelling Bee and Sunday 22 August 2021 for Mathematics), or until allocation is exhausted.
IMPORTANT! ICAS Assessments™ are online-based (including the Writing Assessment). You will need to bring your own compatible device to complete the ICAS Assessment online*. Any laptops, tablets (except iPad Mini), Chromebooks, Macs etc., with an internet browser (Janison recommends Google Chrome) for the ICAS testing platform. Mobile phones/smartphones are NOT compatible devices.
* Please ensure that your device is compatible with the ICAS Assessments™ technical requirements. To view the ICAS Assessments™ Platform Technical Requirements, please visit: https://icasassessments.janisoninsights.com/pages/technical-readiness_technical-readiness.
* Please ensure the device being used for the ICAS Assessments™ passes all requirements of the ICAS Assessments™ Technical Readiness test prior to arriving for the ICAS assessment at North Shore Coaching College: https://icasassessments.janisoninsights.com/pages/technical-readiness_technical-readiness. Mobile phones/smartphones and the Apple iPad mini does NOT meet the minimum requirements.
* Please check carefully to ensure that your device is functional prior to the ICAS Assessment as we do not have spare devices, and will not be responsible if you are unable to undertake the ICAS Assessments™ due to device failure.
* The North Shore Coaching College campus will be providing free WiFi for your child to complete the ICAS Assessments™.
* Students sitting the Writing (Year 3-Year 12) and Spelling Bee (Year 2-Year 7) ICAS Assessments™ online will need to ensure that a Locked-Down Browser is installed, which is downloadable from https://www.icasassessments.com/support-locked-down-browser/
* You may only register for the year level/school grade in which your child is currently enrolled at school.
* You may only register for the ICAS Assessment subjects which your child will NOT be sitting at school.
* You may only register for 1 x ICAS Assessment subject per available day and time slot.
* ICAS Assessments™ in South Australia will be held at the North Shore Coaching College Norwood campus only.
* Please ensure you are available for the date(s) and time(s) you select. Please arrive at least 15 minutes before the specified starting time to ensure your child has sufficient time to set up their device for the online assessment. Note that the ending time listed in the ICAS calendar below is approximate; please refer to the 'Assessment Lengths' table below for the length of the test your child will be sitting. Allow an additional 30 minutes (approximately) for setup, pack down and administration; for example, if your child is sitting the Year 6 Digital Technologies paper at 5:15pm, you should aim to arrive by 5pm and pick up your child at about 6:20pm.
* All fees paid are non-refundable and non-transferable. 
* Devices are required for ALL assessments.
Please refer to the Terms and Conditions for registration to ICAS Assessments™ here.
Please note that your child must sit the paper corresponding to their school year level.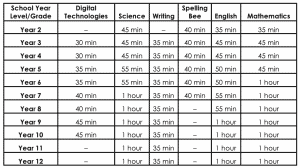 ICAS Assessments at North Shore Coaching College (SA) are 45 minutes for Writing and Spelling Bee and 1 hour for Digital Technologies, English, Science and Mathematics. These duration times are independent of the designated ICAS exam session times/assessment lengths. Extra time is to allowed for orderly entry and exit from our premises and proper functioning of devices for all students.
Student cannot be asked to be removed from the classroom before the advertised time.
Please complete separate bookings for each child you wish to enter; i.e. select desired tickets for Sibling 1, register, and complete payment, then come back to this page and repeat the process for Sibling 2, and so on.
Got a Question?
Please refer to the Frequent Asked Questions (FAQs) for Competition & Assessment information here.
Any questions relating to the online registration, please contact our National Head Office at [email protected]. Alternatively contact the Principal Campus on [email protected].
Details
Price
Qty
SOLD OUT! | ICAS Digital Technologies (Y3-10) | Saturday 7 August 2021, 5:30-6:30pmshow details +
$40.00 (AUD)
Allocation Exhausted
ICAS Writing (Y3-12) | Saturday 9 October 2021, 5:30-6:15pmshow details +
$45.00 (AUD)
Expired
SOLD OUT! | ICAS English (Y2-12) | Saturday 14 August 2021, 5:30-6:30pmshow details +
$40.00 (AUD)
Allocation Exhausted
SOLD OUT! | ICAS Science (Y2-12) | Sunday 22 August 2021, 5:30-6:30pmshow details +
$40.00 (AUD)
Expired
SOLD OUT! | ICAS Spelling Bee (Y2-7) | Sunday 22 August 2021, 5:30-6:15pmshow details +
$40.00 (AUD)
Allocation Exhausted
SOLD OUT! | ICAS Mathematics (Y2-12) | Saturday 28 August 2021, 5:30-6:30pmshow details +
$40.00 (AUD)
Expired
ICAS Writing (Y3-12) | Saturday 9 October 2021, 5:30-6:15pm
October 9, 2021
5:30 pm - 6:15 pm