2022 Jan Summer Holiday & Term 1 Programs – Early Bird Discount!
With the holidays fast approaching make sure your kids stay on top of their game all summer long.
Here at North Shore, we offer a range of holiday courses to suit kids at any age or skill level. Whether they're a budding artist, public speaking prodigy, or wanting to prepare early for an exam — there's a course for your child to let their talents blossom in our Summer Holiday Programs in January 2022. Find out more and keep your kids engaged in the holidays.
Don't forget to enrol in our 2022 January Summer Holiday Programs at North Shore Coaching College! Contact your local Campus Director to enrol today! Enrol early to secure your spot and be eligible for a discount.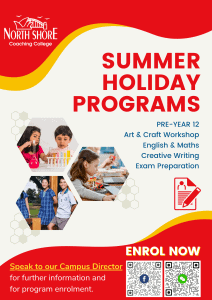 As Term 4 almost comes to an end, make sure to enrol for our exciting 2022 Term 1 Programs. North Shore Coaching College's term programs are developed by experts to help your child reach their full potential, whether they need a helping hand, a motivating mentor or enrichment and extension. Enrol early for North Shore Programs, and secure your spot with our EARLY BIRD DISCOUNT! Contact your Campus Director to enrol today.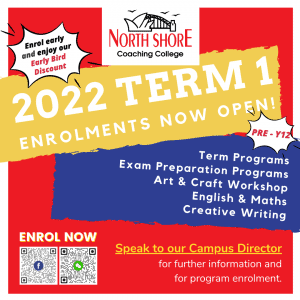 Early Bird Discount ends on 30 November 2021. Don't miss out! Contact North Shore Coaching College right now!