A year 10 Brisbane State High School girl has been officially crowned Queensland's "brainiest" student, giving her school the top honour for the second year in a row.
Jennifer Mai saw off competition from 137 students across 43 schools to take top spot at the 2018 Australian Brain Bee Challenge state finals, held at Queensland's Brain Institute at the University of Queensland today.
Students sat a nail-biting 45-minute multiple-choice quiz that tested their knowledge of facts about the brain — from intelligence and memory, to ageing and Alzheimer's disease.
Judges whittled the group down to 10 finalists, who faced two tense rounds of high-pressure live questioning while their peers cheered on, and occasionally tried to shout out the answer.
The kids stayed cool under pressure, even when told they had just 20 seconds to answer questions such as: "Approximately what per cent of the human brain is made of water?" (answer: 75 per cent), or, to diagnose a disease just by looking at a CAT scan image.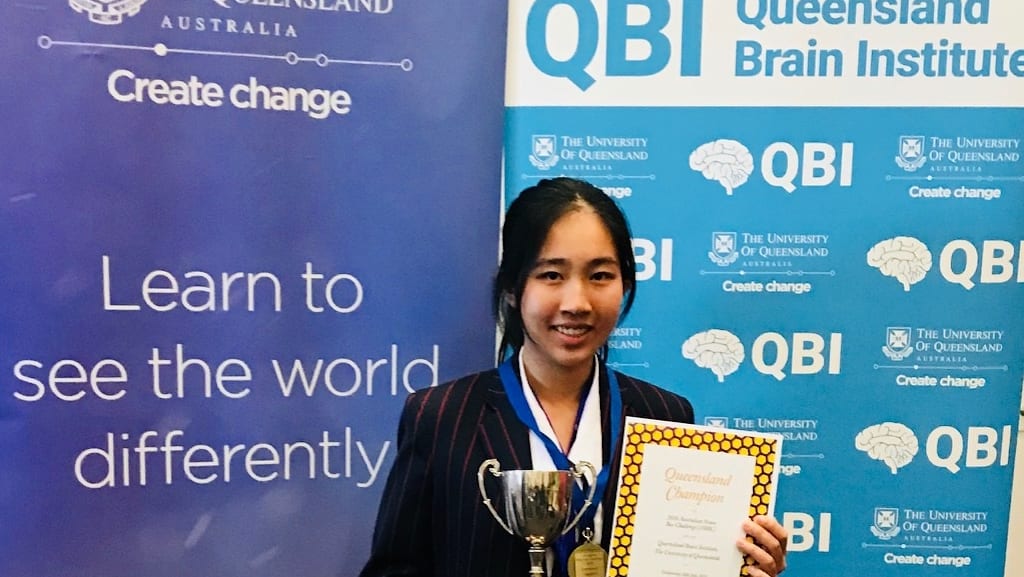 Jennifer Mai shows off her trophy as the
2018 Queensland Brain Bee champion.
Photo: Alison Brown
From there, a group of three emerged: Jennifer, runner-up Meghan Camp from Kirwan State High School and third-placed Markus Brits from Westside Christian College.
But because all were neck-and-neck until the final round judges were forced to go to a tie-break to produce a clear winner.
Afterwards, a relieved Jennifer admitted that while other students were relaxing during the school holidays, she'd been busy cramming for the brain bee.
"I studied hard over the holidays and just tried to accumulate as much knowledge as possible," she said.
"It mainly involved memorising facts. I studied every night but I did try to make time for the family."
She added that her parents strongly backed her entry into Australia's only neuroscience competition.
"I'm hoping to go into the health field in the future, possibly to study medicine," she said.
Brain Bee Queensland coordinator and quizmaster, Associate Professor Bruno van Swinderen, congratulated Jennifer on her outstanding performance and extensive neuroscience knowledge.
"Jennifer should be very proud of what she achieved today in winning the state title," he said.
"The state final brings together some of the brightest young minds we have in Queensland.
"Some of the students who competed today travelled from incredibly far away, and they had the chance to tour our world-class laboratories and see first-hand neuroscience research they've never seen before.
"It was fantastic to see so many students with a keen interest in neuroscience, and we hope that they will consider a rewarding career in research."
Read the full article

→